Housing Inventory Shortage Strong Sellers Market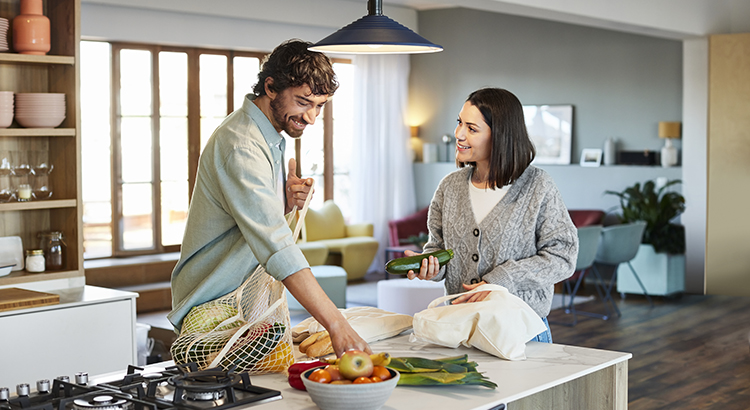 Today's Housing Shortage leading to higher prices for Sellers
One of the biggest challenges in the housing market right now is how few homes there are for sale compared to the number of people who want to buy them. To help emphasize just how limited housing inventory still is, let's take a look at the latest information on active listings in West Hartford CT from June 2018 – June 2023, you can see that the homes for sale in a given month have steadily declined, from just over 5 months supply of homes for sale in June 2018 to now just over a 1 month supply in June 2023. This continues to be a strong seller's Market.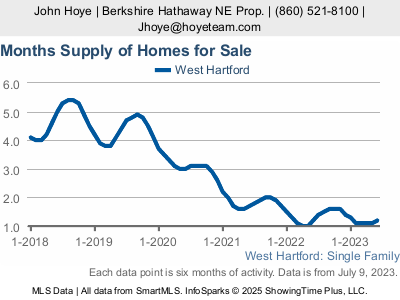 According to a recent report from Realtor.com:
 "On average, active inventory in June was 50.6% below pre-pandemic 2017–2019 levels."
The graph below helps illustrate this point. It uses historical data to provide a more concrete look at how much the numbers are still lagging behind the level of inventory typical of a more normal market (see graph below):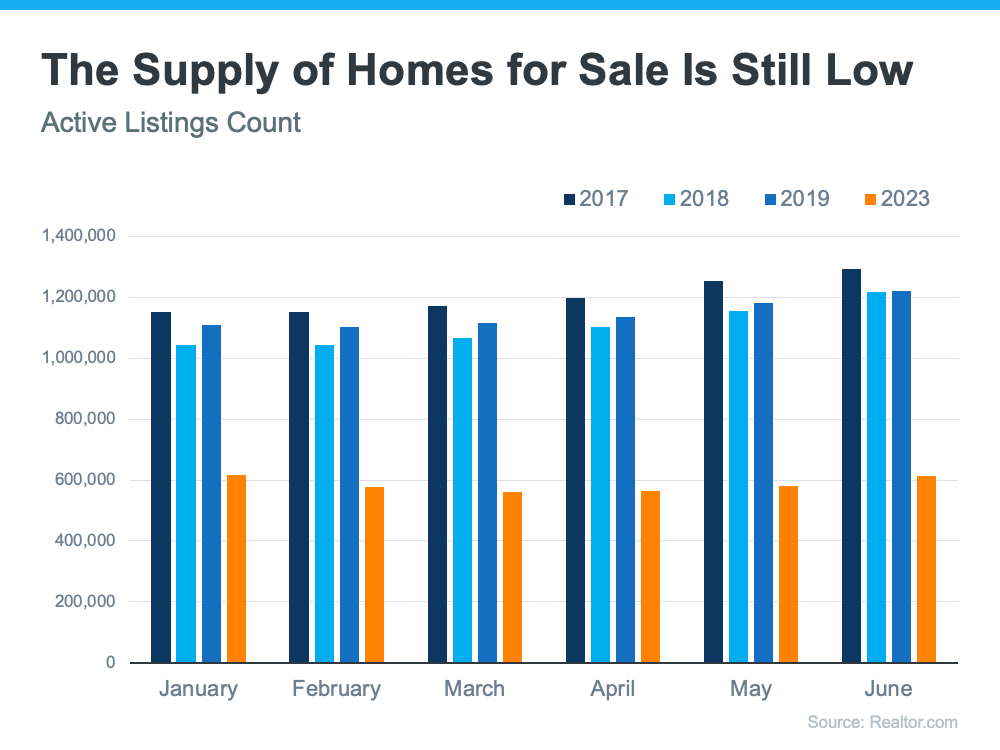 It's worth noting that 2020-2022 are not included in this graph. That's because they were truly abnormal years for the housing market. To make the comparison fair, those have been omitted so they don't distort the data.
When you compare the orange bars for 2023 with the last normal years for the housing market (2017-2019), you can see the count of active listings is still far below the norm.
What Does Low Home Inventory Mean for You?
If you're thinking about selling your house, that low inventory is why this is a great time to do so. Buyers have fewer choices now than they did in more normal years, and that's continuing to impact some key statistics in the housing market. For example, sellers will be happy to see the following data from the latest Confidence Index from the National Association of Realtors (NAR):
The percentage of homes that sold in less than a month ticked up slightly to 74%.
The median days on the market went down to 18 days, showing homes are still selling fast when priced right.
The average number of offers on recently sold homes went up to 3.3 offers.
Local Housing Shortage Decrease Days on Market and Higher Home Values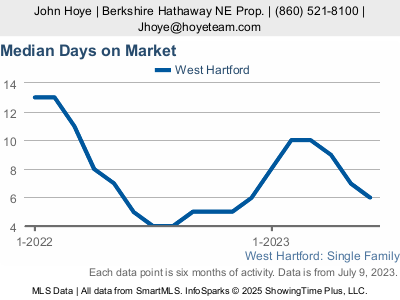 It is noteworthy to mention that the real estate market in West Hartford CT is experiencing a considerable decline in the median number of days a property stays on the market. Based on the latest data, the average duration has dropped from 13 days in January 2022 to a mere 6 days by June 2023. This trend suggests a highly competitive market, with properties being sold at a much faster pace than in previous years.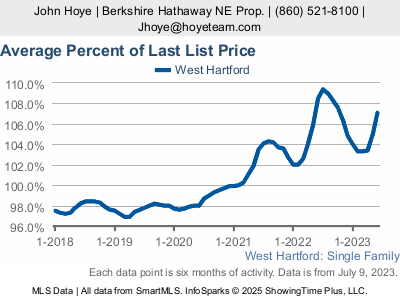 The housing market in West Hartford continues to be a strong sellers' market, with properties selling above their listed prices. In fact, the average amount by which homes are exceeding asking prices stands at an impressive 7%, indicating strong demand and a competitive market. Homeowners looking to sell in this area can expect a favorable return on their investment, while buyers should be prepared to act quickly and potentially offer above the asking price and consider waiving other contingencies to secure their desired property.
Recent data suggests that prices in West Hartford CT continue to be increasing, with no signs of slowing down. Over the past year, from June 2022 to June 2023, the average sale price in the area has enjoyed a significant, increase of 8.4%. Based on these figures, It seems that West Hartford remains firmly in a strong seller's market that is performing well.
Due to the limited home inventory, your home is likely to draw interest. As a result, many sellers are frequently seeing faster sales and are receiving multiple offers in the current market. If you've thinking about selling, now's the time to make a move. Let's connect to get the process started.
---