West Hartford, CT Housing Crunch: How Low Supply is Driving Up Home Prices
Low Supply Driving Up Prices
As the housing market in West Hartford, CT reaches new highs this summer, you may wonder where home prices will go next. This summer's home prices are up 9% compared to last July and show no signs of peaking yet. In our market, the year's highest prices are typically set in the spring and summer months. Last July, the average price was 10% higher than the asking price; this July, it running at 9% higher. Although news of declining home prices and the impact of increased mortgage rates are having in other markets like California, Las Vegas, Portland, and Seattle, it's crucial to understand that real estate trends are region-specific. What's happening elsewhere doesn't necessarily reflect our local market. Therefore, while delaying a home purchase might be advantageous in other markets, waiting for a significant price drop in ours might not be the most effective approach, especially if the home inventory remains low. This will only put pressure on home prices' upward trend.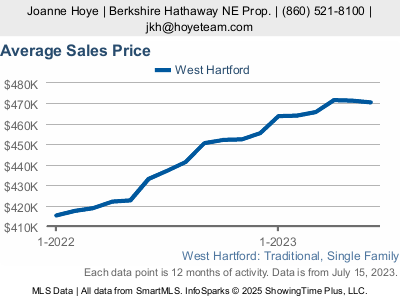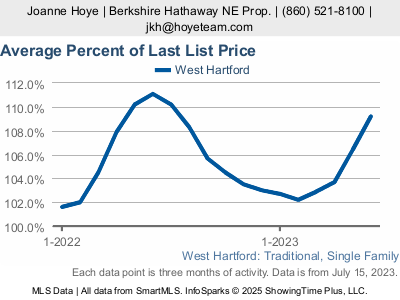 Low Supply of Homes in West Hartford, CT
At present, the supply of homes in West Hartford is critically low. Last year in July 2022, the housing supply was already at what seemed like a very low level, with only a 1.9 month's supply. However, this July 2023, the situation has worsened, with the supply dwindling even further down to 1.3 months – a significant drop of 32% compared to the previous summer. This has put continued upward pressure on home prices. To put the market supply of homes in perspective anything above a 6 months supply of homes would be considered a Buyers Market and anything below a 6 months supply is considered a Sellers Market. Running at under a 2 months supply is considered to be a strong Seller's Market.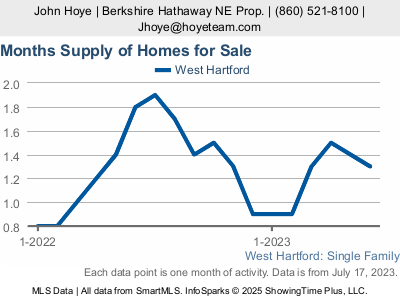 The strong seller's market is anticipated to persist for the foreseeable future.
Presently, many potential Homeowners who may be considering selling their properties often hesitate due to the limited number of homes available on the market. The fact that mortgage rates are much higher now than they were effect sellers too. Many Sellers have fixed mortgages on their current residences with low-interest 3 percent interest rates, and they don't want to replace them for more expensive mortgages now running at 6-7 percent. Even though they could sell their home in a matter of days and get a higher price for their house by selling now, the expense of buying a new one, competing in bidding wars, having to pay over asking, dropping contingencies on their purchase and the cost of moving could cancel out any profits they might make on Selling. This creates a challenging situation, leaving many feeling handcuffed to their present home and unwilling to take action leading to fewer homes coming on the market. This cycle continues into the foreseeable future.
The median days on the market in West Hartford, CT in July 2022 was 4 days. This year, the median time a home is on the market is 5 days before signing a contract.
A recent survey from Zonda shows 53% of millennials are still renting right now because they're waiting for home prices to come down. But here's the thing: the most recent data shows that home prices appear to have bottomed out and are now on the rise again. Selma Hepp, Chief Economist at CoreLogic, reports:
"U.S. home prices rose by 0.8% in February . . . indicating that prices in most markets have already bottomed out."
And the latest data from Black Knight shows the same shift. The graph below compares home price trends in November to those in February: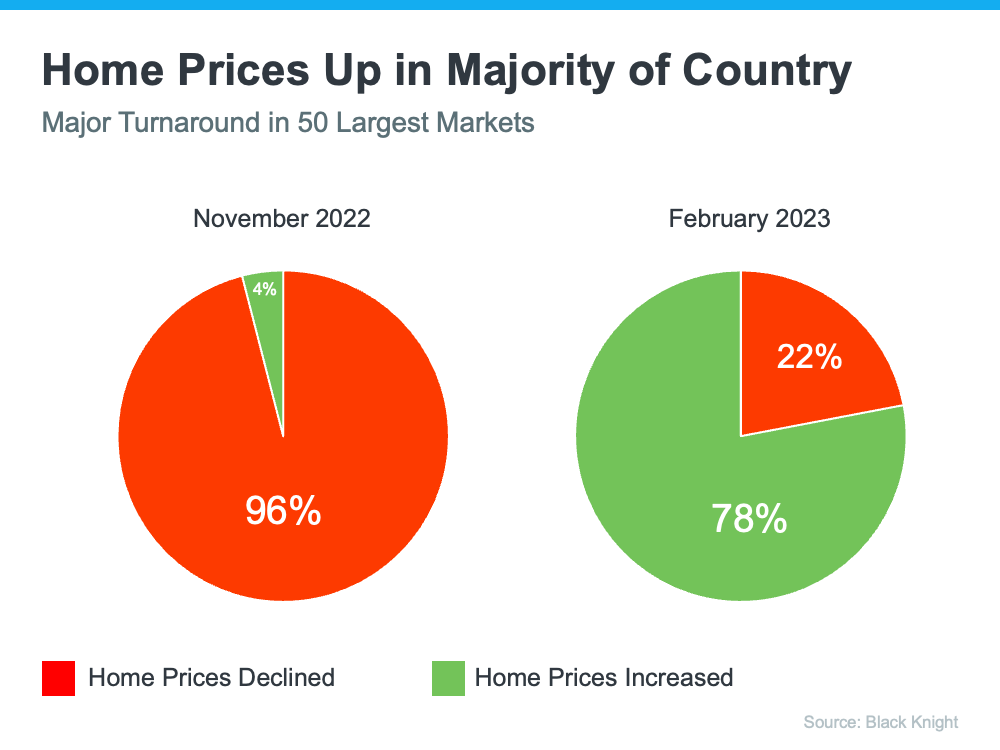 So, should you keep waiting to buy a home until prices come down? If you factor in what the experts are saying, you probably shouldn't. The data shows prices are increasing in much of the country, not decreasing. And the latest data from the Home Price Expectation Survey indicates that experts project home prices will rise steadily and return to more normal levels of appreciation after 2023. The best way to understand what home values are doing in your area is to work with a local real estate professional who can give you the latest insights and expert advice.
Bottom Line
It may be worth reconsidering your approach of holding off on buying a home until prices potentially drop. Additionally, if you are contemplating selling your home, it would be beneficial to connect with me to discuss the current state of the housing market.
---